GARS COVID-19 Madness Sprint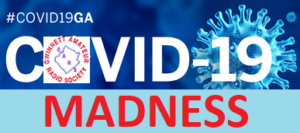 Introducing: COVID19 Madness Sprint
Goals of COVID19 Madness Sprint:
This is to be a weekly Sprint where you contact as many 1×1 Special Event Stations as you can, on as many bands as you can, and use as many modes as you can; CW, Digital, Phone, and this Sprint includes internet-linked repeaters.  
Most 1×1 Special Event Stations are on the weekend but some are scheduled during the week.  Since there are only a few 1×1 stations per week this should not be an all-day, all-weekend event. 
The Sprints are scheduled to start at the end of the GARS 14 July meeting and end on Sunday 27 September at midnight local. 
July 20 – July 26
July 27 – Aug 2     
Aug 3 – Aug 9     
Aug 10 – Aug 1

6     

Aug 17 – Aug 23     

Aug 24 – Aug 30

Aug 31 – Sep 6
Sep 7 – Sep 13
Sep 14 – Sep 20
Sep 21 – Sep 27
The rules:
Only 1×1 Special Event Station and W1AW QSOs count for points.
Bands; 160m, 80m, 40m, 20m, 15m, 10m, 6m, 2m, and 70cm.
Modes; CW, Digital, and Phone.  (Note the Bands and Modes will be dictated by the 1×1 call station, any mode they use is valid).
To level the playing field for Technicians and those without HF gear.  At least one leg of the QSO has to be by radio.  Internet-linked repeaters such as All-Star, DMR, D-Star, Echolink, IRLP, and Wires are allowed.  Each count as one mode.
Each weekly Sprint starts on Monday 0000 local time and ends on Sunday at 2359 local.  If the Special Event Station is still on the air come Monday morning work them again using as many modes and bands as you can because that is the beginning of a new Sprint.
Remember to have and encourage others to join in.
Points:
1 point per contact, per mode; (CW, Digital, Phone), per band.
No multipliers for CW, Digital, Battery, Generator, QRP, or QRO.  
Bonus Points:
If W1AW, ARRL HQ, is on the air, work them on as many bands and modes as possible.  ARRL Headquarters, W1AW, is the only non-1×1 call allowed for this Sprint.
September 19th (International Talk Like a Pirate Day) any QSO you do talking/texting like a pirate, your points for those QSOs double.  (I guess to talk like a pirate on CW or Digital modes you send a bunch of RRRRRs).
Logs:
Use whatever works for you; Post-it notes to contest logging software.  You will not be sending in a copy of your log.  To keep it simple you will use your log to submit a Scorecard Spreadsheet.  
Scorecard Spreadsheet:
Follow this link to get your Scorecard Spreadsheet.  Download it and email it to covid19sprint@gars.org .
Weekly sums are due by Thursday at 2359 local for each weekly sprint completed.
Suggested file name; YourCall_COVID19_Sprint.xlsx but note that .ods (open document format is also allowed).  Use File > Download to get a copy of the Scorecard Spreadsheet. 
Notes/Comments
Use the 1×1 call sign site to search for a complete list of Special Event Stations as some may get their 1×1 call just in time to get on the air.  Also note that many 1×1 calls were reserved many months ago and due to COVID19 those events may be canceled and those stations may not be on the air.
Here is a link to the 1×1 call sign website http://www.1x1callsigns.org/  Simply search for a range of dates to get an up to the minute list.
Awards, Certificates, and Recognition:
To be determined by the Executive Committee and presented at one of our face-to-face meetings.